Why use an electric car charging station?
The electric car charging station, or wallbox, is the safest and most efficient, for your car as well as for your electrical installation. With a charging point, you are sure to find your vehicle fully charged every time you need to get on the road. A charging point can charge (depending on its power) up to 8 times faster than a household socket. This means that an electric vehicle can be charged from 0 to 100% in only 1 to 4 hours.
As an example, charging 80% of the battery in a Zoe Renault takes 20 hours with a household socket (2.3kW/10A) and less than 5 hours with a charging station (7.4kW/32A*).
*Source: Renault website
Who owns the charging station?
You become the owner of this charging station. Zephyre is an intermediary that takes care of everything to make your task easier: installation, maintenance and billing.
Study
Our certified electrician will come to your site to carry out the technical study of the installation (dimensioning, electrical optimisation) and will propose a quote adapted to your situation. Zephyre accompanies you in the request to the co-ownership syndic, in the choice of the wallbox power and in the presentation at the General Assembly.
Learn more about the installation
Is access to my electric car charging station protected?
Yeah, it's secure access. Only you can activate it thanks to your identification badge (RFID badge).
AFTER-SALES SERVICE
Can I install an electric car charging station if I am a tenant?
If you are a tenant, remember to make a request to the owner of the premises, and send us back his signed agreement.
How do I get my vote at the general meeting?
Remember to contact us as soon as you are considering the purchase of an electric vehicle. It is important to anticipate the demand to the syndic of co-ownership during an ordinary general meeting (otherwise it will be necessary to convene an extraordinary general meeting). ZEPHYRE will accompany you in all these steps.
To find out more about the terms and conditions of co-ownership
What is the impact of installing a wallbox for co-owners who do not wish to buy an Electric Vehicle?
None. ZEPHYRE will connect the installation to the general meter and the co-owner(s) concerned by this new installation will be responsible for the installation costs as well as the electricity costs. In this way, we ensure that there is no impact on the condominium's charges or budget.
How to benefit from state subsidies and aid?
Our offers are eligible for the Advenir program. Zephyre deducts the amount of the Advenir grant from the quotation.
Once your electric car charging station has been installed, ZEPHYRE takes care of the Advenir subsidy file, and you do not pay it. In addition, ZEPHYRE will tell you the amount of the tax credit for which you are eligible (30% of the expenses, which can be cumulated with the Advenir grant).
For more information, go to the page Tax Deductions / Advenir grant.
To know more about the grants awarded
How to benefit from the reduced VAT rate?
The expenses for the acquisition of charging systems for electric vehicles are eligible for the reduced VAT rate of 5.5% (Article 5 of Law 2014-1654 of 29/12/2014), provided that the dwelling is more than 2 years old, and is a main dwelling. In order to benefit from this reduced rate, you will have to fill in a certificate issued by the tax authorities (you can download it here). You will have to send us back this signed certificate as soon as possible, so that we can organise the first technical visit and draw up an estimate mentioning the right VAT rate.
Find out more about tax credits
ISSUES RELATED TO ELECTRIC CAR CHARGING
How long does it take to recharge my vehicle?
A full charge (0% to 100%) should last about 3-4 hours depending on your vehicle and its technology, but a conventional daily charge should not exceed 2 hours.
The table below shows the charging times for a car with a 20 kWh capacity battery, on a single-phase or three-phase installation.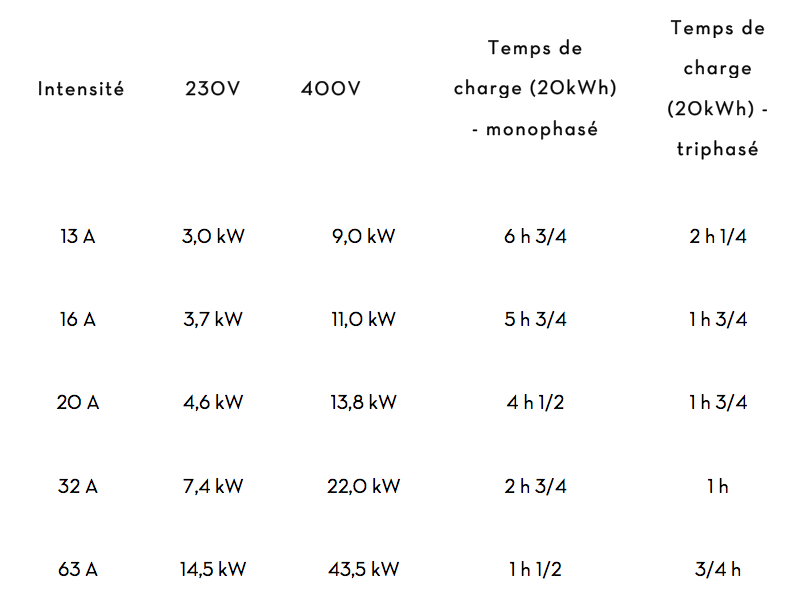 For a Renault Zoé (2017 model with 41kWh batteries), the full charge would therefore take just over 3 hours in 20kWh single-phase and just over 1h1/2 in 20kWh three-phase.
The battery recovers 80% of its capacity in half the charging time. It is not necessary to fully charge the battery each time. The last 20% is done in a much slower method to preserve the quality of the battery.
You're lost in the middle of these technical terms?
Zéphyre helps you to install a charging station and to buy an electric vehicle.
Contact us at +33(0)1 80 97 76 77 (from 9am to 7pm working days) or send an email to our team via our form :
How much does it cost to recharge an electric car?
As with internal combustion cars, this varies according to the model. However, a full tank of energy is very economical compared to a conventional one, with an average cost of 0.15€ per kWh. For example, in the Renault Zoé - 41kWh battery, a full tank will cost you €6.15 for a range of around 400km.
Is my vehicle suitable for all electric car charging stations?
All electric vehicles and charging stations produced and installed in Europe are type 2 (unlike Japan and USA type 1). The IRVE decree imposes the standardisation of charging sockets and plugs, enabling users to benefit from an excellent quality of service. Our charging stations are classified as type 2S, being equipped with a safety shutter as required by the French standard in force.
Find out more about the IRVE decree
How can I avoid over-consumption and unpleasant surprises on my electricity bills?
To avoid any misadventure, Zephyre wallboxes are equipped with a program that reduces or temporarily suspends the load when the device detects a risk of overconsumption. This means that each home or car park is subject to a maximum electrical power defined when you subscribe to an electricity supplier. To find out your power, contact your electricity supplier or consult your service contract.
Reimbursement of electric car recharging costs
ZEPHYRE takes care of setting up automatic monthly settlements. The most frequently encountered scenarios are the following
-> Your employer reimburses you for all or part of your top-up costs.
-> You live in co-ownership and must reimburse the co-ownership for the electricity consumption of your wallbox.
This way, you or your employer can relieve you of this administrative task.