ZEPHYRE CHARGING STATION WALLBOX
Let yourself be taken care of!

Zephyre takes care from A to Z of the installation of your electric vehicle charging station, or wallbox. We bring you a custom solution at home or in the office, outdoors or indoors, according to your needs.
Our objective is to give you access to easy and smart recharging, but also to simplify and secure the whole installation and maintenance process.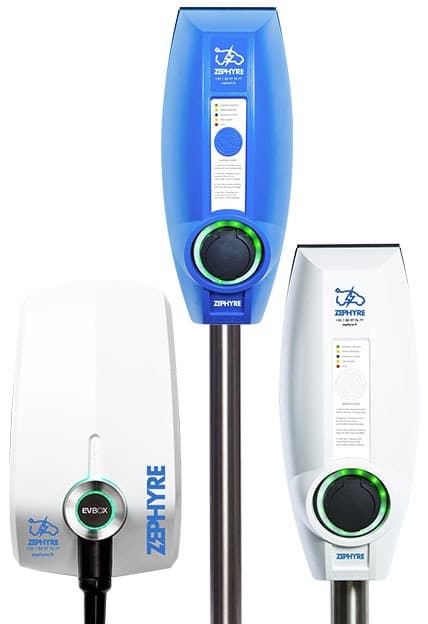 * Optional
** Standard NF C 15-100
*** Qualifelec/IRVE (mandatory from 13 July 2017 following the decree of 12 January 2017)
TAX & SUBSIDY
Take advantage of tax credits and grants for the installation of your wallbox.

NEED HELP?

Any plans to buy an electric car in the near future? A question?

Learn more about our charging stations for electric vehicles
State of play
Près de 42 000 véhicules électriques ont été commercialisés en 2019, et l'horizon 2024 qui verra la disparition du diesel dans Paris et 2040 pour le reste de la France approche à grands pas. Sans parler de la Loi sur la mobilité, ou loi LOM, qui imposera dès 2040 la fin de la vente des véhicules à moteur thermique et des hybrides en France. Le marché des voitures électriques et hybrides rechargeable n'en est donc qu'à ses débuts. Que les consommateurs soient convaincus ou pas du bien-fondé de la lutte contre les émissions de gaz à effet de serre, il faudra abandonner sa voiture à moteur thermique.
The start-up Zephyre, a specialist in electrical charging stations
Founded in 2017 by Gaëlle Mettey, Zephyre is innovative on this market, as it does not only offer the installation of its charging stations, but also a catalogue of turnkey services for individuals (via condominiums for example), businesses and administrations.
Its connected EV-Box terminals are manufactured by a subsidiary of Engie, and installed following application for public subsidies.
Once in place, Zephyre ensures their administrative management and remote maintenance. Beyond these basic services, Zephyre helps you manage consumption.
The ADVENIR label
You understood it, labeled "Advenir", Zephyre takes care of all the administrative procedures:
Technical study of the installation, dimensioning and electrical optimization of the load point.
Obtaining subsidies and electric mobility aids
Calculation of the amount of the Energy Transition Tax Credit.
With the Advenir program, the costs of supplies and installation can be covered up to 40% or 50%.
For the "Energy Transition" tax credit, the eligible amount corresponds to 30% of the expenses.
The Zephyre charging terminals are certified "European Community (CE)". The installation is guaranteed for 1 year, and the charging station for 3 years. In order to manage electricity consumption and billing, the company provides the customer with detailed control software. Zephyre is not the owner of the charging station! Zephyre manages the installation service and the after-sales service for the equipment and administration. The price of the bollard, after deduction of state subsidies, is between 1000 and 1500 euros. The monthly subscription is 10 euros for the service (at the time of writing this article). This makes it a profitable investment if one takes into account a full charge of about 6.13 euros.
Zephyre's taking care of everything!
Driving a car that does not emit any greenhouse gases is a responsible act, but also one that is simple and based on the know-how of an imaginative company. Once convinced by their professionalism, the Zephyre company conquers many companies whose customers spend more or less time at home: hotels (most recently Grape Hospitality) and before that Norauto, administrations or Novotel. The autonomous plug and play monitoring of a vehicle's charging station allows the customer to follow the battery level and its billing live.
Why a terminal rather than a socket for individuals?
The arguments are strong. The so-called wallbox charging station is the ideal way to preserve the integrity of your domestic electrical installation. It is also much more efficient for recharging your car. A concrete example: with a wallbox installed by Zephyre, your car will be charged eight times faster than with an electrical outlet. If you have to leave your home in an emergency you will always find your vehicle fully charged. With a Zephyre terminal it only takes 1 to 4 hours for a 0 to 100% charge.
Interests of the Zephyre terminal for service or commercial companies
With the installation of Zephyre terminals, the companies wish to attract new customers who own electric vehicles. It is a real additional service for customers or visitors of administrations to be able to recharge their car while waiting in professional or administrative premises. Hotels and restaurants have understood this and these companies are more likely to turn to Zephyre than to another company whose quality of service sometimes disappoints.